November Grantee Spotlight
Bay Area Plan's Reach Academy Back to School BBQ
Q. What is the vision that guides your work? What will the world – and specifically Oakland – look like if you are successful?
Bay Area PLAN: Every parent, guardian, and family member wants the best education possible for their child. Bay Area Parent Leadership Action Network (PLAN) is an Oakland-based social justice organization that develops the leadership and builds the power of parents to transform schools, so that all students achieve success. Our parent and family leaders envision an Oakland that moves parents and families from mere compliance with school policies to transformative engagement. This means we believe that every school has to respect and honor parents as a child's first teacher and best advocate.
The experience of students and parents of color in Oakland is the story of resilience, persistence, and pride. Families' resilience in the face of violation of their rights or disrespect of their language is why we push for language access and every parent to exercise their rights. Parents' and families' persistence in advocating for the resources their children need, from the classroom to the school board, gives us hope. The pride that students, parents, and families exhibit when they realize and affirm they are brilliant, strong, and capable of transforming hearts, minds, and schools is what drives us.
Public Advocates: We challenge the systemic causes of poverty and racial discrimination by strengthening community voices in public policy and achieving tangible legal victories advancing education, housing, transit equity, and climate justice. In public education, especially in Oakland, we envision community schools that offer our youth with an education in support of the whole child, enabling them to thrive as active participants in our democracy. That vision is rooted in adequate and equitable funding that values the wisdom of youth of color and their families indistrict and school decision-making. 
Q. What current policy advocacy campaigns are you working on?
Bay Area PLAN: Our advocacy and organizing campaigns are rooted in interrupting the stereotypes and negative narratives that re-enforce systemic racism and oppression in education and communities. We recruit and train parents in Oakland's most segregated schools. In doing so, we build a network of parents who support each other as effective organizers for school site campaigns to improve resources and practices around academics, school climate, and family engagement. We are actively working with parents and parent liaisons at 10 public schools. We also work with organizations across Oakland to advance community-based campaigns that push district leaders to be accountable in investing millions of federal and state taxpayer dollars equitably and transparently, to disrupt systemic racism and oppression. We are a lead organization in the Justice for Oakland Students Coalition, which is fighting to prevent budget cuts from hurting our most vulnerable students and to advance a people's budget. Our organizing committee of parents, teachers, and community members are actively organizing to advance our 100% Engaged Campaign. Our campaign goal is to ensure that all schools have full-time parent liaisons, language access, and family resource centers by 2020.
Public Advocates: Both statewide and in Oakland, we've been working to ensure that the increased educational resources promised under the new school funding law serve the needs of low-income students of color. But we know that our school system is still severely underfunded, so we continue to shine a light on the need for adequate school funding. We are also advocating for the meaningful engagement of students and families of color in the district's decision making. To that end, we collaborate with grassroots partners to build the capacity of youth and families to use new tools like local spending plans and the California School Dashboard. These provide powerful leverage for shaping district and school plans and policies and holding districts responsible for ensuring that the voices of students and parents are respected and heard.
What will you be focused on for the rest of the year?
Bay Area PLAN: Our focus for the rest of this year will be to ensure we do our part to build momentum, from OUSD leadership to the classroom, to keep OUSD away from state receivership, prevent unnecessary school closures, and advance our 100% Engaged Campaign. In addition, we will be working with parents and organizations throughout Oakland to train at least 500 parents and family members to become stronger advocates for students through our Know Your Rights workshops. Last but not least, we want to grow our base of supporters and parents to strengthen our network and membership.
Public Advocates: Given the current budget crisis in Oakland public schools, we are working with grassroots partners to ensure that students and families have a meaningful voice in the decisions the district makes and to hold the district accountable for serving vulnerable students and rebuilding its fiscal health. With our partners, we want to guard against actions to balance the budget — such as layoffs and school closures — that unfairly and disproportionately affect low-income youth of color and fail to advance school quality. With the coming 2018 elections, it is critical to maintain support for equitable — and increased — school funding through the Local Control Funding Formula and to move away from test-and-punish accountability toward a more supportive and holistic approach to measuring school success. We need to make sure that the new leadership in Sacramento continues to support these grassroots-driven reforms. We will also collaborate with allied civil rights groups and other education stakeholders to enforce AB 1360, a new law passed this year that requires charter schools, which continue to expand in Oakland, to respect their students' constitutional rights to due process and not exclude students through discriminatory enrollment criteria.
Are you working in partnership with other Akonadi grant partners in the Arc Toward Justice Fund?
Bay Area PLAN: We highly value all our peer organizations in the Arc Toward Justice Fund. We work with Black Organizing Project, Californians for Justice, Public Advocates, and Public Counsel on all of the community-based campaigns to hold OUSD leadership accountable for equitable investments in Oakland public schools.
Public Advocates: We value our close and longstanding partnerships with ATJ grantees Californians for Justice and Bay Area PLAN, with whom we have been collaborating in Oakland and statewide for more than a decade. We also have worked closely with Public Counsel over the past few years to provide support to the grassroots education justice movement in Oakland.
Akonadi Foundation's mission is to eliminate structural racism that leads to inequity in the United States. We work to support and nurture racial justice movement building in Oakland by funding organizations and leaders fighting on the ground through grassroots organizing, culture shift, and policy change. Find out more about Akonadi Foundation here.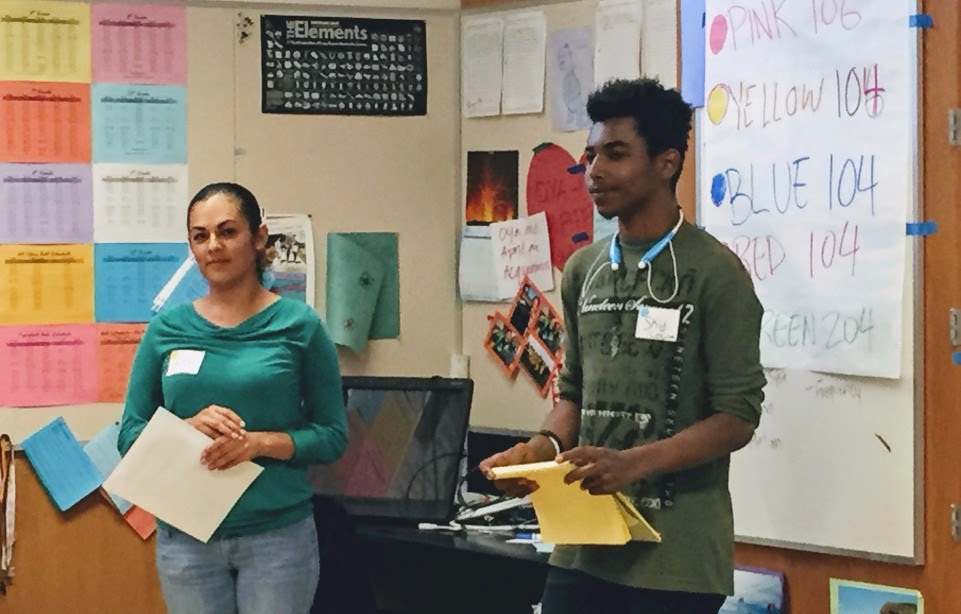 Student presenting at Oakland LCAP review, Public Advocates